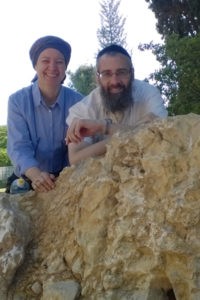 "Chessed Ve'Emet" is a Torah organisation devoted to teaching the beautiful values of Torah and spirituality to those who thirst to learn and grow…
For those who wish to learn — how to learn…
Schedule a time to learn personally online with Reb Eliyahu using Skype and webcam – at a convenient time to yourself, learning a Torah book of your choice – and a subject of your choice – progressing at a pace most suitable to you!
Aliyah Assistance
We also offer a unique personalised service to those wishing to make Aliyah (immigrate to Israel) and to those who have already made Aliyah needing support as they go about settling into their new country.
We offer mentoring and support for those in Israel as well as those still overseas!
ABOUT REB ELIYAHU
Eliyahu Shear was born in Johannesburg, South Africa. His great-grandfather – a student of the famous Telz Yeshiva in Lithuania emigrated due to pogroms, making a home for himself in South Africa. Brought up in a secular family, after changing schools many times in his youth, he found his way to authentic Torah Judaism eventually becoming a rabbi. He has always loved working with computers and is a qualified computer technician and network engineer. He is a keen photographer and enjoys using all his talents whenever and wherever he can!
He has spent many years in education, teaching children and adults alike – both in the world of computers and in the world of Torah.
Reb Eliyahu has Semicha in Issur Ve'Hetter from Rabbi Daniel Channen, Shabbos from Rabbi Dovid Ostroff, Niddah from Rabbi Aharon Schenkolewski, Mikvaot from Rabbi Yossi Sirote and Shatnez from Rabbi Yosef Sayagh (Lakewood) and is also a qualified Chatan teacher (from Rabbi Fishel Jacobs). He is a qualified Sofer from the Vaad Mishmeret Stam (Israel) – and uses all his talents in teaching all areas of Torah – including Chatan lessons online and Safrut lessons online. He is also the author of "Parshah in Just Two Minutes! Concise Summaries of the Weekly Parshah" and co-author of the popular children's book "Tuvia Finds His Freedom" and the the Hebrew version "טוביא יוצא לחפשי"
He has lead a Minyan, been Gabbai and Baal Koreih. In his youth, he davened for a number of shuls in South Africa over the Yomim Tovim, blew Shofar and took part in teaching a variety of Shiurim.
Reb Eliyahu enjoys working with computers and is qualified as an A+ Hardware/Software Technician and a Microsoft Certified Systems Engineer. In his youth, he also built a fully mobile, sensory robot "Hero 1" – used for educational teaching purposes.
He has used his Torah and computer knowledge in aiding a school to publish a variety of Torah publications including two Divrei Torah journals and five Gemara skills workbooks.
In his youth Reb Eliyahu enjoyed gymnastics. He also spent much time enjoying photographing and developing photos (in the "old days") in the darkroom.
Reb Eliyahu is married to Shoshanah – a qualified occupational therapist, healing facilitator, certified teacher of infant massage and qualified Kallah teacher. Together they have set up "Chessed Ve'Emet", an organisation devoted to the spreading of authentic Torah teachings and values, as well as providing numerous Mitzvah projects to help those in need.
Reb Eliyahu's focus is on the practical side of Yiddishkeit and the importance of being a mentsch. Both he and his wife value the importance of a pure family life and have assisted singles searching for their marriage partners.
Reb Eliyahu and his wife also manage a unique photographic business, which specializes in Jewish functions and provides the facility for covering the men's and women's sections independently.
We bring you Torah from the Yerushalayim – "For from Zion will the Torah go out!"
Authentic Torah Judaism taught to you online and in-person.
We offer various services to keep you inspired and connected to Torah life!
We have a variety of projects of kindness to assist others in need too!
Be a part of them today!