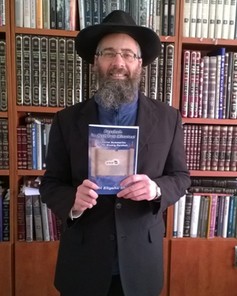 PARSHAH IN JUST TWO MINUTES! CONCISE SUMMARIES OF THE WEEKLY PARSHAH
Our latest publication – Parshah in Just Two Minutes! presents a summary of all the Parshiyot of the Torah. Neatly presented, the reader is able to get the gist of every Aliyah of the Torah in an easy manner. Basic points of the Aliyah are noted with less emphasis on the details – which the reader is welcome to pursue by reading a full translation of the Parshah.
This book is GREAT for those wanting a summary of the Parshah, for students wanting to refresh themselves before an exam – or for those sitting in Shul listening to the Parshah without a proper understanding. Now all these people have the opportunity to gain the entire Parshah "at a glance" so to speak.
The book is currently available on Createspace – so head over there and BUY YOUR COPY TODAY! You can also purchase a copy directly from us in person – so please do come through when you're next in Jerusalem!
TUVIA FINDS HIS FREEDOM (IN ENGLISH AND HEBREW)
Chessed Ve'Emet's first published book is "Tuvia Finds His Freedom". It has also been translated and published in Hebrew. Both books are available on a variety of online book stores including Createspace. See Tuvia Finds His Freedom and Tuvia Finds His Freedom (Hebrew Edition).
Our first book has been written for children! It's a story about a "tortoise" (quotes for a reason) who is lost and is helped by a couple to find his home again! It is filled with glossy images sharing the story as it unfolded. Based on the true story, it teaches kids the beauty of caring for animals and loving all of creation. First reviews already show that a number of kids have been delighted with the story, the pictures and the message that "Tuvia" shares with us all!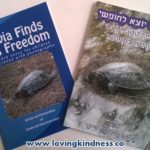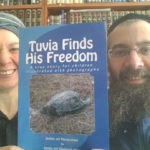 Purchase "Tuvia Finds His Freedom" on Createspace!